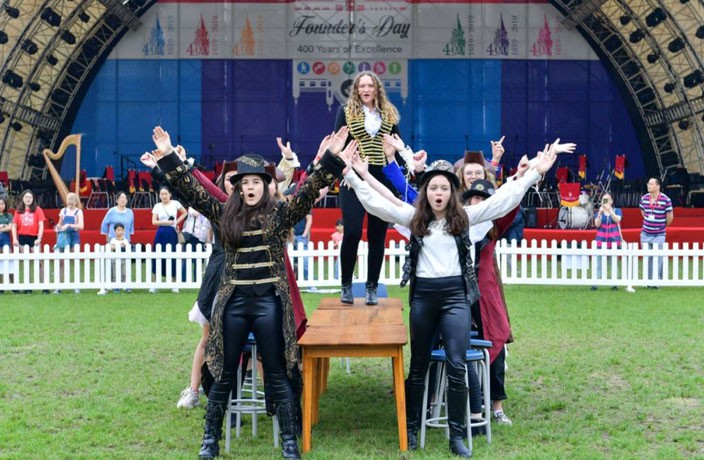 Britannica Shakespeare Festival
Students at Britannica International School, Shanghai celebrated the works of William Shakespeare with a week-long festival of performances, plays and classroom activities all dedicated to the Great Bard. Students got creative, making models of the Globe Theatre, and had an amazing time developing their English skills by writing sonnets and practicing Shakespearian language. Friends and family also enjoyed some of Shakespeare's greatest works with a series of incredible stage performances by Britannica's students. Well done to all who took part!
Wellington Speech Day
Speech Day at Wellington College is one of proud celebration and acknowledgement of our year 13 leavers' accomplishments, tinged inevitably with a small dose of sadness as we mark the ending of their time with us. In Wellingtonian tradition, pupils made insightful, impassioned speeches reflecting on the nature of their academic experiences, unique friendships and their hopes for the future.
Football Legend Visits YCIS Pudong to Talk Sport
YCIS Shanghai Pudong recently partnered with Glasgow Rangers FC. Rangers legend and former England international Mark Hateley visited the school to answer YCIS parents' questions about the importance of sports in their children's education. He later presented a keynote speech at the YCIS Pudong annual Sports Awards Evening.
Dulwich Pudong Celebrate Founder's Day 2019
Dulwich College Shanghai Pudong held Founder's Day 2019 on Saturday 1 June. It was a fun-filled afternoon honoring the school's founder – Edward Alleyn. The whole Dulwich Pudong community was celebrating 400 years of its founding school in London, Dulwich College, as well as DCSPD's 16th anniversary this year.
A Fine Celebration of all Things Harrow
A stunning neon nighttime Bund landscape provided the perfect backdrop for a recent Harrow Shanghai cocktail evening. The event celebrated 450 years of rich and unique Harrow history and traditions bringing together Shanghai parents, staff, Harrow London governors, Old Harrovians now living and working in Shanghai and high-end business partners.