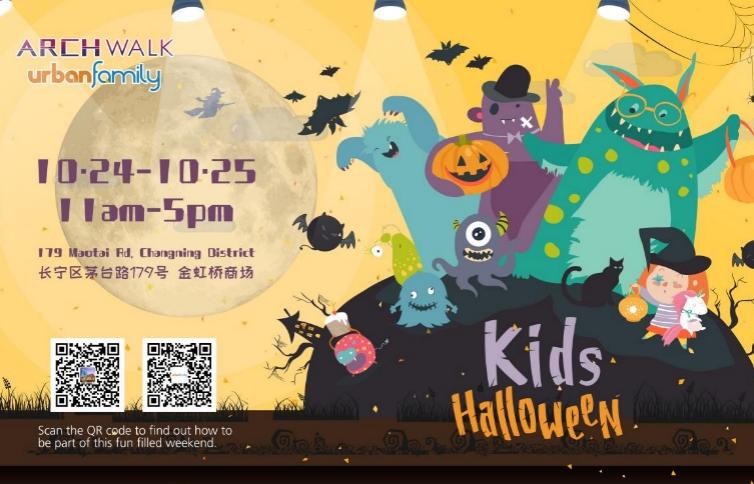 On October 24-25, Shanghai Archwalk will be spooking out Urban Family with a fun-filled, family-friendly gathering. This year's event will cater to more than 50,000 kids and parents and it's shaping up to be a spectacular weekend. The 2020 Urban Family Kids Halloween Weekend will feature a range of special performances as well as tons of fun games for the little ones. Of course, there will be plenty of traditional All Hallows' Eve activities, like pumpkin decorating and Halloween crafts.
Part A: Get Candy Bags!
Time: Oct 24-25
Location: Information Desk (1/F, by Starbucks)
RSVP through ARCHWALK, Urban Family to get a free candy bag during October 10 to 25. Registered attendees can collect one candy bag from 11am to 5pm by presenting your name and phone number.
Limited capacity! First come first serve!
Part B: Trick or Treat!
Time: Oct 24-25
Let's go out! The little elves and devils wearing Halloween costumes can go to the specified store of the shopping mall to ask for candies. There's a witch rumor that the more exaggerated and novel someone dress, the more chance he will get to win the store's favor and get more delicious treats. It is heard that more than 60 stores have been ready for facing with these small troublemakers.
Part C: Let's Party!
Time: Oct 24-25, 11am-5pm
Address: Sunken Plaza
There will be a lot of wonderful performances at the center of the stage, like Halloween interactive games, slide show and music performances. Join us at the center of the stage and have fun together! And there are wonderful scientific experiment shows waiting for you.
Part D: Halloween Science Show
Time: Oct 24, 4pm-4:30pm Oct 25, 2pm-2:30pm
Address:Sunken Plaza
Why does dry ice smell like Coke? How did the burning paper suddenly disappear? Mad scientists will reveal the answers one by one through exciting scientific performances and interactive activities. Children will experience the power of air pressure, learn about vacuum, Bernoulli's principle and much more! The magic hovercraft will ignite children's wonder of science!
Part E: Collecting & Gifts
Time: Oct 24-Oct 25, 11am-5pm
Location: Information Desk (1/F, by Starbucks)
Attendees registered via ARCHWALK, Urban Family can get the Halloween Children's Passport for free. Collect certain stamps in 2 days to exchange gifts.
Amount limited! For more details, please check the posters on site.
Part F: Halloween Wacky Parade!
Time: Oct 24-Oct 25, 4:30pm -5pm
Students from Shanghai will be dressed in their spookiest, silliest and craziest costumes and raid the Halloween parade at Archwalk Shanghai. You can join them or take photos with them. There will also be a costume competition for kids to show off their costumes, and winners can get prizes!
Part G: Wacky Bazaar!
Time: Oct 24-Oct 25, 11am-5pm
Address: 1/F Walkway and stage
You can walk around the bazaar. Of course, there will be plenty of activities. You have the opportunity to experience interesting and creative DIY workshops. Limited seats, first come, first served. We make sure that you will spend a different Halloween at Archwalk Shanghai!
Trick or Fashion
Time: Oct 24-Oct 25, 11am-5pm
Location: DIY Workshop Area
Halloween, the day of annual 'Cosplay' festival has been started!
Horror-gothic style? Or cute-horror? Be creative to make your own hallowee
n mask and hair accessories, wear them, then you'll be the most stunning sta
r in the crowd!
RSVP扫码预约Trick or Fashion
Maggie & Rose Halloween Magic Party
Time: Oct 24-Oct 25, 11am-5pm
Location:DIY Workshop Area
Halloween is here and it's time for a spooky Halloween party! Join us for a scary mask making activity and get your face painted! Our Maggie & Rose team will be here to welcome you to the party, all welcome from ages 0-5 years. See you there!
RSVP扫码预约 萌宝魔法派对
Handmade Desserts
Time: Oct 24-Oct 25, 11am-5pm
Location: Miboi Booth
Mibo is a brand new brand of Fangtai Group. This time it will bring you Halloween specialties. Every kids can DIY together, no matter whether they have a cooking foundation or not, they can make cute and delicious desserts and bring you the experience of cooking happiness.
RSVP扫码预约Handmade Desserts
RSVP required — Scan the QR code below to RSVP NOW and get a free candy bag.
Oct 24-25, 11am –5pm, free entry. Shanghai Archwalk, 179 Maotai Lu, by Loushanguan Lu 金虹桥商场,茅台路179号, 近娄山关路
Limited candy bags!
Reservation is required.