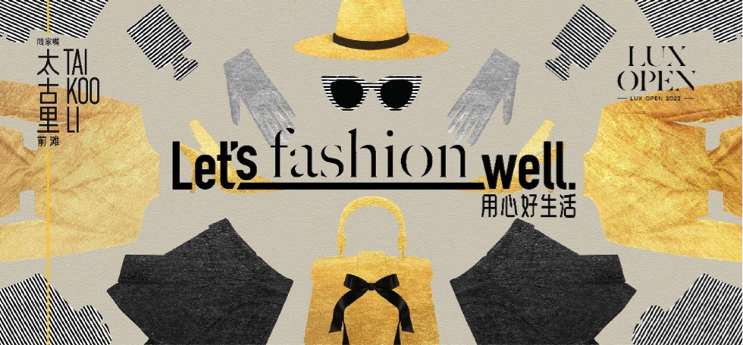 The LUX OPEN Anniversary Carnival of Taikoo Li Qiantan is officially kicked off.
The LUX OPEN Carnival of Taikoo Li Qiantan kicked off on September 23rd in a showcase of luxury experiences presented in its unique open space. On the occasion of its first anniversary, the event themed "Let's Fashion Well" will include various activities such as "VIP Weekend", "Anniversary Celebration" and "Fashion Weekend", inviting consumers to participate and write a new chapter together.
LUX OPEN Carnival's curtains part to reveal a feast of fashion in an open space
the Open Space of "LUX OPEN Night" for Fashion Feast
Group Photo of "LUX OPEN Night" Guests
The LUX OPEN Carnival at Taikoo Li Qiantan will run from September 23rd to October 16th. With "Wellness" at its core interjected by fashion and luxury, Taikoo Li Qiantan is a unique confluence of luxury and open space. Wandering among high-end stores and enjoying exclusive VIP privileges amid the luxuriant setting; connecting with friends and family and discovering the inspirations of fashion in life. All these are the connotations of LUX OPEN.
a Blockbuster -themed Immersive Setting was offered on the Opening Ceremony of "VIP Party"
With the theme of "Let's Fashion Well ", the LUX OPEN Carnival will offer customized and exclusive privileges to consumers, bolster the annual shopping festival and lead to new dynamics of consumption. "VIP Weekend" will offer a blockbuster -themed immersive setting, providing VIPs with an intimate experience which they can fully enjoy the exclusive luxurious mood of Taikoo Li Qiantan offered. The "LUX OPEN Night" of "VIP Weekend" featured surprise appearances by celebrity guests, including Xiaowen Ju , Maiqi Jiao, Lingzhi Liu, Xingjian Wu, Jingkang Liang, Dany Lee, Xi Qi, and Bayi Xue . With the red carpet rolled out, guests can mingle in style and spend a wonderful time together. The "Anniversary Celebration" will be held from September 26th to October 7th to provide consumers with a limited-time experience and celebrate the anniversary feast together. "Fashion Weekend" will be held on October 14th and 15th, during which brands will unite for a unique outdoor fashion show, on a runway that will extend from the 80-meter Scenic Bridge to the 450-meter Sky Loop, in an interpretation of Shanghai fashion attitudes.
Alan Lo, General Manager of Taikoo Li Qiantan, said: "In the past year, Taikoo Li Qiantan has brought endless surprises, and constantly created new experiences and practiced new ideas. We officially announced the opening with Wellness Festival last year. We hold LUX OPEN Carnival to celebrate 1st anniversary with public, which will be a new iteration of 'Let's Live Well'. In the future, Taikoo Li Qiantan will continue to develop as an oasis of inspiration for urban life to constantly enrich experience for consumers."
Gathering fashion and luxury brands, Celebrating the annual event with unparalleled experience
the Special Issue of Taikoo Li Qiantan named as 优YOU magazine and LUX OPEN limited edition charity T-shirts
During the anniversary, Taikoo Li Qiantan has teamed up with many famous brands to offer limited-time benefits such as multiple consumer bonus points, consumer discounts, themed blind boxes and workshops alongside a wealth of VIP experiences to create a literal carnival for consumers. At the same time, Taikoo Li Qiantan also has joined hands with social enterprise café, LiLi Time, to launch LUX OPEN limited edition charity T-shirts and conduct charity sales, inviting consumers to share their love and warmth.
Curating the urban third space, Upgrading living experience with heart
The Taikoo Li Qiantan continues to explore and expand the multiple boundaries and infinite possibilities of Wellness.
This year, Taikoo Li Qiantan continues to expand the multiple boundaries and explore infinite possibilities of Wellness, to portray a quality life with "heart". Taikoo Li Qiantan has introduced several public art installations such as "The Indirect Exchange of Uncertain Value " and "The Italian Bunnies" that explores the symbiosis of art and humanity by reshaping the inspirational space; Taikoo Li Qiantan has achieved the WELL Core Platinum Certification, the first shopping mall to receive, as it continuous to practice and lead in sustainable lifestyles. The mall has diversified its digital experiences and introduced intelligent technology elements to explore the digital life possibilities. There is also a one-stop running service that integrates the runner's staircase, intelligent tracker and RE: fresh wake-up space, inviting people to enjoy the pleasure of sports in the Sky Loop. Meanwhile, Taikoo Li Qiantan also offers exclusive VIP services and private privileges at the Wellness Station, as well as VIP parking and valet parking experience, to constantly surprise and provide warm companionship to consumers.
Looking back on this year, Taikoo Li Qiantan started the Wellness exploration journey with the "Wellness Festival"; introduced "Bags: Inside Out" and the "Museum of Ice Cream" to provide a fashion fest and romantic experience for Shanghai; launched the "Personally Yours: Unboxing the Unknown" event to uplift new retail shopping experiences, as well as all the other initiatives formed the prelude to LUX OPEN. The year here is in full swing thanks to the support of all the tenant brands and consumers. In the future, Taikoo Li Qiantan will continue to offer a third place in Shanghai and embark on a new journey with its commitment to create surprise.
[All Images via Taikoo Li Qiantan]